I am having so much fun decorating for Christmas this year.
I'm trying a whole new look that I've never done before and having a ball!
I recently turned a thrift store mirror into a blackboard (tutorial to come).
I decided to feature it on a tabletop/bookcase in my living room.
Last year I snatched up these little trees at an after Christmas clearance sale at Michael's.
They have lots of silvery sparkleness on them.
The pots were plastic so I wrapped them in burlap and plopped them into some cream pots that I had.
I rounded up most of my mercury glass for this vignette.
The candles got a little bling with silver ribbon.
And a little rustic with some twine.
I love mixing rustic and sparkly at Christmas time.
This little candle holder also makes a sweet vase.
I wish I could have used real greenery,
but it's so warm and dry here in Las Vegas I was afraid it would dry out to fast.
I made some tags and tied them to my baskets.
I'm sure my toddler will tear them off soon enough, but it's nice while it lasts! :)
On three tags I used letter stickers: Peace, Love, and Joy.
Then I used some rubber stamps to make the other three.
There's this deer, a bird and a topiary.
I'm really liking the simplicity of the table.
Thanks for visiting!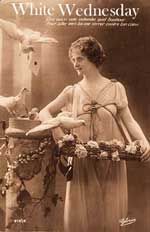 Linking up to

Southern Hospitality Christmas Vignette

.