I hope you all had a very Happy Thanksgiving!
Our family traveled to beautiful Lake Geneva WI for a few days.
We had a lovely time and we truly have a lot to be thankful for!
I hope to have a little Christmas decorating completed by the end of this week to show you, in the meantime I wanted to let you know about a printables party my friend Kristen is having.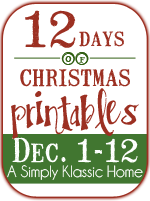 There's going to be free printables, giveaways, and linky.
(click on the button to learn more)
So check it out...I think it's going to be a lot of fun!!